Now if you know Bia, you know she loves her (stuffed) puppies. On Thanksgiving she told her Daddy she wanted a real puppy. A few days after that conversation we received the LL Bean catalog in the mail. I was perusing through it and saw some photos of the following: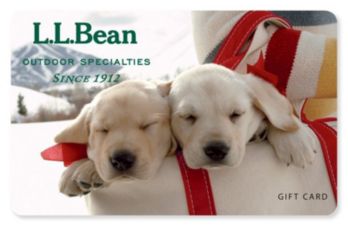 and showed them to the girls. Chatty and Bia decided they wanted those for Christmas - two in fact - one for each of them. Anyway on the way home from school yesterday Chatty announces that she doesn't want two cute puppies (when they requested puppies they requested cute ones) for Christmas.
Bia: "Why? I want two cute puppies!"
Chatty: "Because it will be a lot of work to take care of them."
Bia: "I take care of two cute puppies"
Chatty: "Mom I want a laptop instead"
Chatty: "You should really get me a laptop"
Next thing you know she will be asking for an IPAD and an IPhone ... and she is only 6 1/2. I told her she needs to ask her Poppa for the laptop!
As a disclaimer - Mr. ESPN does NOT want a dog - cute or not - he claims he is allergic to them ... I think that is just an excuse personally! Because really who could resist those two sweet puppy faces???